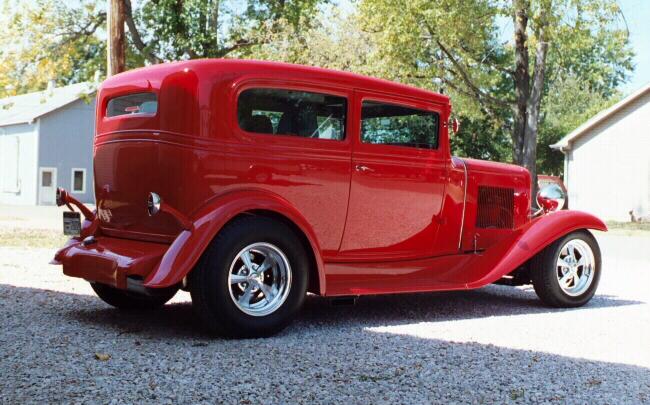 These frames & rolling chassis are designed to fit 1931 & 1932 Chevrolet cars and 1931, 1932 & 1933 Chevrolet trucks. Progressive Automotive takes pride in manufacturing their products at their shop in Baltimore, Ohio, U.S.A. emphasizing their commitment to quality and craftsmanship.
Our hot rod frames feature our new boxed frame rails, constructed from 10-gauge (.135") sheet steel. Our rails mimic the original shape, contours and widths of the original frame, unlike mandrel bent box tube. The rails are fully welded, and the corner welds smoothed.
Unlike the original Chevrolet frame, our frames & chassis incorporate our tubular crossmember. Not only does this create a stronger frame, but it allows room for modern transmissions.
Many other chassis options are available, such as Custom-built ride heights, Air ride, Wilwood brake upgrades, new 3rd members, etc. Call or email for information and pricing for your specific needs.
Example of bare frame, contact us for a quote.

Bare 1931-32 Car/1931-33 1/2 ton truck frame with boxed rails, radiator support crossmember, tubular X-member with automatic transmission mount, running board brace holes, body mounts spot welded in place, rear coil-over crossmember and capped for bumper mounting. Starting at $6,885

Example of rolling chassis, contact us for a quote.
1931-32 Car/1931-33 1/2-ton truck frame, with Tubular X-member, Chevy performance motor mounts, Automatic Transmission mount, Brake pedal with booster mount, Tubular coil spring IFS, new manual rack & pinion and one of the following rear suspension:
Triangulated 4-bar with R-joints, Ride Tech HQ rebound adjustable coil-overs, new 9″ Ford housing, axles and disc brakes with black Lokar parking brake cables. $15,770
Narrowed rear frame rails, 2″ each side, Parallel 4-bar with R-joints, Ride Tech HQ rebound adjustable coil-overs, new 9″ Ford housing, axles and disc brakes with black Lokar parking brake cables. $17,420
Rear rails narrowed up to 23″ wide , 4-Link with R-joints, Ride Tech HQ rebound adjustable coil-overs, new 9″ Ford housing, axles and disc brakes with black Lokar parking brake cables. $17,880
Rear rails narrowed for C4 Corvette rear suspension, Rebound adjustable coil-overs, *Specify 1984-87 or 1988-96 Corvette rear brackets for *narrowed hub width, new cover bushings, half shaft u-joints and steel camber bars. *1984-87 Rear end can be narrowed to 58.5″ hub width, *1988-96 Rear end can be narrowed to 59.5″ hub width. For customer supplied Corvette parts. $18,360