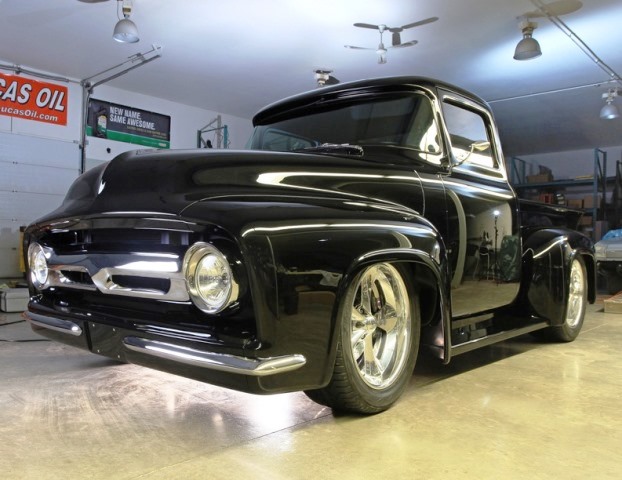 These frames & rolling chassis are designed to fit 1953, 1954, 1955 and 1956 Ford, ½ ton, short bed, trucks. For Long bed trucks, inquire. Proudly manufactured at our shop in Baltimore Ohio.
 Our hot rod frames feature our new boxed frame rails, constructed from 10-gauge (true 1/8") sheet steel. Our rails mimic the original shape, contours and widths of the original frame, unlike mandrel bent box tube. The rails are fully welded, and the corner welds smoothed.
 Unlike the original Ford frame, our street rod frames & chassis incorporate our designed tubular crossmember. Not only does this create a stronger frame, but it allows room for modern transmissions.
 Many other chassis options are available, such as Custom-built ride heights, Air ride, Wilwood brake upgrades, new 3rd members, etc. Skeletal crating for LTL shipping included at no cost. Call or email for information and pricing for your specific needs.
Example of bare frame, contact us for a quote.
 Bare 1953-56 Ford truck frame with boxed rails, radiator support crossmember, tubular X-member with automatic transmission mount, running board brace holes, front cab mounts spot welded in place, rear cab mount brackets bolted on, rear coil-over crossmember and bumper mounting holes. Starting at $7,105
Example of rolling chassis, contact us for a quote.
 1953-56 Ford truck frame, with Tubular X-member, Chevy performance motor mounts (Ford/Chrysler motor mount upgrade available), Automatic Transmission mount, Brake pedal with booster mount, Tubular coil spring IFS with front sway bar, new manual rack & pinion (power rack upgrade available), Parallel 4-bar with R-joints, Ride Tech HQ rebound adjustable coil-overs, new 9″ Ford housing, axles and disc brakes with black Lokar parking brake cables.                $16,565
 1953-56 Ford truck frame, with Tubular X-member, Chevy performance motor mounts (Ford/Chrysler motor mount upgrade available), Automatic Transmission mount, Brake pedal with booster mount, 1988-96 Corvette front suspension brackets, new power rack & pinion, front sway bar, rebound adjustable front & rear Ride Tech HQ coil-overs, 1988-96 Corvette rear brackets for customer supplied Corvette parts                 $15,260