Our Triangulated 4 bar rear suspensions are made from heavy wall, seamless tubing and include urethane bushings. Bars are TIG welded for strength and appearance. Ride heights can be custom tailored to you taste during your installation. All bars have an adjustable urethane bushed ends to allow easy adjustment of the pinion angle. Frame rails must be boxed for bracket attachment points.
  We also custom build for non-stock frames or most vehicles not listed. Inquire for details. Vehicles must have trim-able inner fender panels for upper control arm clearance. Proudly manufactured at our shop in Baltimore Ohio.
The kit are designed for steel housing rear ends, such as 8″ and 9″ Ford and 8 3/4 Chrysler rear ends, where steel brackets can be welded to a steel housing. These kits are not designed for Dana style rear ends that have cast housings. See our Parallel 4-bar for Dana style rear ends.
All Triangulated 4-bar kits include:
          (2) Upper bar
          (2) Lower bar
          (4) Upper bar rear axle mounts with hardware
          (2) Upper bar frame mounts with hardware
          (2) Lower bar rear axle mounts with hardware
          (4) Lower bar frame mounts with hardware
          (2) Lower coil-over/Shockwave mounts with hardware
Options and Additional Parts are listed at the bottom of this page
Universal Kit

          Includes long upper bars. Cutting & tapping required                TRB-U              $425
Chevrolet/G.M. Cars & Trucks
          1928-32 car/1931-33 truck                      TRB-CA              $410
          1933 Master & Standard car                    TRB -CB             $410
          1934 Master car                                       TRB -CC             $410
          1934-35 Standard car                              TRB -CD             $410
          1935 Master car/1936 Standard car        TRB –CE             $410
          1936 Master car                                       TRB –CF             $410
          1937-39 car                                             TRB –CG             $410
          1940-48 car                                             TRB –CI              $410
          19549-54 car                                           TRB –CH             $410
          1955-57 car                                             TRB –CJ             $410
          1953-62 Corvette                                    TRB –CV             $410
          1934-36 Truck                                             TRB -CTB            $410
          1937-40 Truck                                             TRB –CTC           $410
          1941-46 Truck                                             TRB -CTD            $410
          1947-55 (1st Ser.) Truck                               TRB -CTE           $410
          *For 1955 (2nd Ser.) -59 Chevy trucks, see our Parallel 4-bar suspensions

Ford Cars & Trucks
          1932 car/1932-33 (1st Ser.) Truck            TRB-FC                 $410
          1933-34 car/1933 (2nd Ser.)-34 Truck     TRB-FC                 $410
          1935-40 car/1935-41 Truck                     TRB –FD                $410
          1941-48 car                                             TRB –FE                $410
           *For 1942-56 Ford trucks, see our Parallel 4-bar suspensions

Mercury Cars & Trucks
          1941-48 Mercury car            TRB-ME                 $410
Mopar Cars & Trucks
*Note, Specify Wheelbase   
    *1933 Plymouth (108"/112" WB) car/1933-35 (1st Ser.) Dodge Truck       TRB –PA    $410
    *1934 Plymouth (108"/114" WB) car                    TRB –PB            $410

Willys Cars & Trucks
          1937-41 car/1937-41 Truck                          TRB -WA             $410
Optional Parts

Boxing Plates for C-channel style frame rails can be found here:
Reinforcement Plates for Top Hat Chevrolet frames can be found here:

Rear Sway Bar kit (All but 1942-56 Ford truck & 1955-59 Chevy)   PA-RSB-1            $285
Vehicle Specific Rear Coil-over/Shockwave Upper mounting crossmember              PA-RCC               $80

Universal U-weld/drill/cut Rear Coil-over/Shockwave Upper mounting crossmember     PA-RCC-U          $75
1955-57 Chevy/1953-62 Corvette Upper Coil-over/Shockwave mounts    TRB-CO-CJCV     $50
Ride Tech Coil-Overs
*More information on these can be found on our Ride Tech Coil-over & Shockwave page
             HQ coil-overs, rebound adjustable                        TRB-CO-HQ            $665
             TQ coil-overs, rebound adjustable, dual stage compression           TRB -CO-TQ   $1,800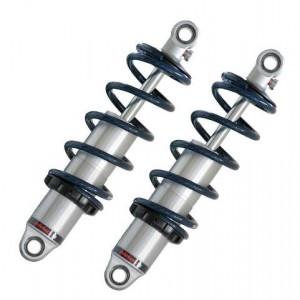 Ride Tech Shockwaves for Air suspension
*More information on these can be found on our Ride Tech Coil-over & Shockwave page
             HQ ShockWaves, rebound adjustable                        TRB-SKW-HQ            $900
             TQ ShockWaves, rebound adjustable, dual stage compression           TRB -SKW-TQ   $1,900