Progressive Automotive's Triangulated 4 bar rear suspensions bars are made from heavy wall, seamless tubing, ensuring strength and durability. The bars are TIG welded for both structural integrity and a visually appealing appearance. All bars feature an adjustable end, allowing for easy adjustment. This feature enables you to fine-tune the suspension for alignment and pinion angle. Ride heights can be custom tailored to you taste during your installation. Frame rails must be boxed for bracket attachment points.
We can custom build for non-stock frames and most vehicles not listed. Inquire for details.

The kit are designed for steel housing rear ends, such as 8″ and 9″ Ford and 8 3/4 Chrysler rear ends, where steel brackets can be welded to a steel housing. These kits are not designed for Dana style (cast housing) rear ends. See our Parallel 4-bar for Dana style rear ends.
Specify either urethane bushings or Ride Tech R-Joints.
-Urethane Bushings Facts: Urethane bushings provide controlled movement, vibration isolation, and durability. Articulation is limited.
-R-joints: R-Joints offers low friction movement, allowing for smooth and effortless articulation and durability. This feature enhances the overall ride, performance and handling of the suspension system.
Progressive Automotive takes pride in manufacturing their products at their shop in Baltimore, Ohio, U.S.A. emphasizing their commitment to quality and craftsmanship.
All Triangulated 4-bar kits include: (2) Upper bars, (2) Lower bars, (4) Upper bar rear axle mounts with hardware, (2) Upper bar frame mounts with hardware, (2) Lower bar rear axle mounts with hardware, (4) Lower bar frame mounts with hardware & (2) Lower coil-over/ShockWave mounts with hardware.

Upper mounting crossmembers, Sway Bars, Coil-overs, and Air Ride parts are listed at the bottom of this page
Universal Kit Includes long upper bars. Cutting & tapping required
with Urethane bushings TRB-U $459
with R-joints TRB-U-R $699
Chevrolet Cars
1928-32 car/1931-33 truck
with Urethane bushings TRB-CA $459
with R-joints TRB-CA-R $699
1933 Master & Standard car
with Urethane bushings TRB-CB $459
with R-joints TRB-CB-R $699
1934 Master car
with Urethane bushings TRB-CC $459
with R-joints TRB-CC-R $699
1934-35 Standard car
with Urethane bushings TRB-CD $459
with R-joints TRB-CD-R $699
1935 Master car/1936 Standard car
with Urethane bushings TRB-CE $459
with R-joints TRB-CE-R $699

1936 Master car
with Urethane bushings TRB-CF $459
with R-joints TRB-CF-R $699
*1937-39 car
with Urethane bushings TRB-CG $459
with R-joints TRB-CG-R $699
*Recommended (4) 7″ Top Hat Frame re-enforcement plates can be found here
*1940-48 car
with Urethane bushings TRB-CI $459
with R-joints TRB-CI-R $699
*Recommended (4) 7″ Top Hat Frame re-enforcement plates can be found here
*1949-54 car
with Urethane bushings TRB-CH $459
with R-joints TRB-CH-R $699
*Recommended (4) 7″ Top Hat Frame re-enforcement plates can be found here

1955-57 car
with Urethane bushings TRB-CJ $459
with R-joints TRB-CJ-R $699

1953-62 Corvette
with Urethane bushings TRB-CV $459
with R-joints TRB-CV-R $699
Chevrolet/G.M.C. Trucks
1934-36 Truck
with Urethane bushings TRB-CTB $459
with R-joints TRB-CTB-R $699
1937-40 Truck
with Urethane bushings TRB-CTC $459
with R-joints TRB-CTC-R $699
1941-46 Truck
with Urethane bushings TRB-CTD $459
with R-joints TRB-CTD-R $699
1947-55 (1st Ser.) Truck
with Urethane bushings TRB-CTE $459
with R-joints TRB-CTE-R $699
For 1955 (2nd Ser.) -up Chevy trucks, see our Parallel 4-bar suspensions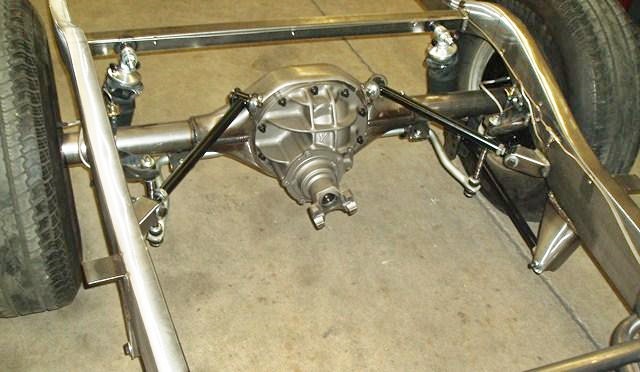 Ford Cars & Trucks
1932 car/1932-33 (1st Ser.) Truck
with Urethane bushings TRB-FB $459
with R-joints TRB-FB-R $699

1933-34 car/1933 (2nd Ser.)-34 Truck
with Urethane bushings TRB-FC $459
with R-joints TRB-FC-R $699
1935-40 car/1935-41 Truck
with Urethane bushings TRB-FD $459
with R-joints TRB-FD-R $699
1941-48 car
with Urethane bushings TRB-FE $459
with R-joints TRB-FE-R $699
*For 1942-up Ford trucks, see our Parallel 4-bar suspensions

Mercury Cars
1941-48 Mercury car
with Urethane bushings TRB-ME $459
with R-joints TRB-ME-R $699
Mopar Cars & Trucks
*Note, Specify Wheelbase
*1933 Plymouth (108"/112" WB) car/1933-35 (1st Ser.) Dodge Truck
with Urethane bushings TRB-PA $459
with R-joints TRB-PA-R $699
*1934 Plymouth (108"/114" WB) car
with Urethane bushings TRB-PB $459
with R-joints TRB-PB-R $699

Willys Cars & Trucks
1937-41 car/1937-41 Truck
with Urethane bushings TRB-WA $459
with R-joints TRB-WA-R $699
Additional & Optional Parts

Boxing Plates for C-channel style frame rails can be found here:
Progressive Automotive Rear Sway Bar kit PA-RSB-1 $345
Rear Coil-over/Shockwave Upper mounting crossmember PA-RCC $119
*Recommended for Top Hat frames, add (2) 7″ Top Hat Frame re-enforcement plates
1955-57 Chevy/1953-62 Corvette Upper Coil-over/Shockwave mounts TRB-CO-CJCV $59
Ride Tech Coil-Overs
*More information on these can be found on our Ride Tech Coil-over & Shockwave page
HQ coil-overs, rebound adjustable TRB-CO-HQ $860
Ride Tech Shockwaves for Air suspension
*More information on these can be found on our Ride Tech Coil-over & Shockwave page
HQ ShockWaves, rebound adjustable TRB-SKW-HQ $945