---
 For more than 47 years, Progressive Automotive's long-standing experience and commitment to producing high-quality frames, chassis, suspensions, and installation kits make us the best choice for both home builders and professionals.
 Progressive Automotive specializes in working on vehicles with a full frame and offers a wide range of options for various makes and models. With over 30 specific makes and models of frames or rolling chassis available for Ford, Chevrolet, Plymouth, Dodge, and Willys vehicles, we have a comprehensive selection to cater to different vehicle enthusiasts' preferences.
 Our expertise extends to various vehicle models, including pre-1949 street rods, 1955-57 Chevrolets, 1953-62 Corvettes, and trucks. Our diverse selection caters to different tastes and preferences in the automotive enthusiast community.
 If you need one of our products tailored to your needs, we recommended contacting us for more information about your project.
 Our team of professionals have 91 years of total combined experience in the hot rod industry. Progressive Automotive has a knowledgeable and dedicated staff. The fact that they are all enthusiasts themselves speaks to their passion for their work and their understanding of the needs and desires of fellow enthusiasts.
 Progressive Automotive takes pride in manufacturing their products at their shop in Baltimore, Ohio, U.S.A. emphasizing their commitment to quality and craftsmanship.
Are you looking for a new frame or chassis for your Hot Rod, Street Rod or Truck? 
 Progressive Automotive understands that each vehicle is unique, and they strive to manufacture frames and chassis that meet the specific needs of their customers.
 All our frames, suspensions, and chassis are custom-built to order. This level of customization ensures that customers can get exactly what they want for their hot rods, street rods, or trucks.
 Whether you're looking for an ultra-low ride height, a stock stance with modern comfort, superior handling, or a smooth ride, Progressive Automotive's craftsmen are dedicated to building frames and chassis that align with those requirements. This personalized approach ensures that customers can enjoy their custom hot rod with the desired performance characteristics.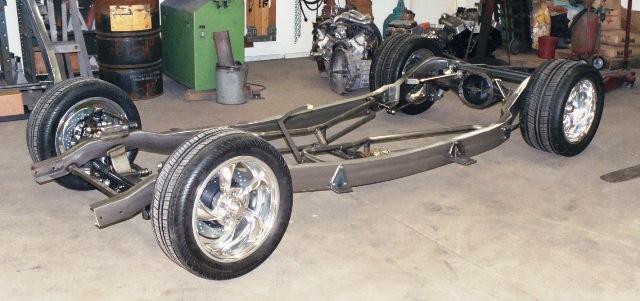 Do you have a good frame and just want to do it yourself?
 If you already have a good frame and prefer to take a do-it-yourself approach to your project, Progressive Automotive offers installation kits, too. Their installation kits are designed to provide everything you need to complete your chassis. They are specifically designed to be easy to install, allowing you to save time and effort while ensuring proper fitment.
Need an Installation kit for a vehicle not listed?  
 Progressive Automotive also offers the option to custom build suspension kits. This allows you to get the specific components you need, even if they are not listed as a standard production kit for your vehicle model.
 Additionally, Progressive Automotive offers in-house upgrades for original frames. This means that if you have an existing frame that you want to enhance or improve, they have options available to help you achieve that. You can find examples of these upgrades at the bottom of their About Our Frames section.
 Progressive Automotive has a rich history, starting in 1976 with the introduction of their independent front suspension kits for hot rods and trucks. We have continued to innovate and develop new items over the years, aiming to provide classic vehicles with modern performance and safety features.
 Progressive Automotive received recognition in the form of The NSRA Industry Appreciation Award in 1984. Their development of utilizing Corvette suspensions in their chassis and installation kits, starting with the 84-96 C4 Corvette, and later incorporating the 1997-2005 C5 and 2006-13 C6 Corvette suspensions, demonstrates their commitment to staying at the forefront of their industry.
 Progressive Automotive's longevity in the business is a testament to the quality products and customer service they provide. Our ability to keep customers coming back from all over the world speaks to our reputation and the satisfaction we deliver. The talented fabricators at Progressive Automotive are highly skilled and meticulous, prioritizing safety and function.
 For anyone interested in learning more about Progressive Automotive's offerings, they can reach out via email or by calling the provided contact number.
____________________________________________________________________________