---
For 42 years, Progressive Automotive Inc. has produced the highest quality frames, chassis, suspensions and frame kits for the home builder as well as the pros. From Street Rods to Muscle cars, Corvettes and Classic Trucks, we've got you covered.

Since our beginnings in 1976, with our innovative independent front suspension kits for Street Rods, we've consistently developed new items to give your classic vehicle modern performance with today's safety. The team of professionals at Progressive Automotive are also enthusiasts. We bring more than 69 combined years of experience in the custom hot rod industry. We hold our product line and our work to the highest of standards because this isn't just our job, it's our passion. We specialize in any vehicle with a full frame, and we currently produce more than 30 specific make and model frames for Ford cars and trucks, Chevrolet cars and trucks, Plymouth cars, Dodge trucks and Willys cars and trucks. All frames, suspensions and chassis are custom built to order.

Are you looking for a new frame or chassis for your Hot Rod, Street Rod or Classic Truck?
All hot rods, street rods and classic trucks are as unique, so shouldn't the frame or chassis be built to meet your driving needs? All of our frames and chassis are hand-built to your order and specifications. Whether you want a ultra-low ride height, stock stance with modern comfort, superior handling or just a nice, smooth ride, our craftsman can build it for you.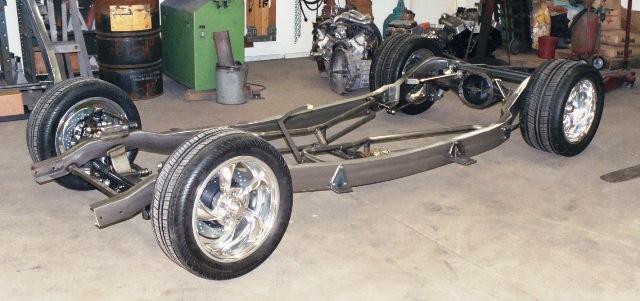 Do you have a good frame and just want to do it yourself?
Have you got a bare frame for your project and just need the rest? Our hot rod and classic truck installation kits are what you need. We've got easy-to-install front and rear suspensions, motor mounts, frame cross members and more, and all our parts are built in our shop in Ohio. That means we can custom build suspension kits for vehicles that aren't listed. Just take a look at a few of these vehicles listed in our Customers' Rides section.
Need an Installation kit for a vehicle not listed?  
We have a section of custom worksheets in our Tech Info section to help us get the information we need to build the components for your vehicle. Whether you're working on a complete custom design or basing on an original model not listed, we can take the information about your vehicle's frame and customize a modern suspension system to suit your vehicle and give you the handling and ride you need. We also offer In-House upgrades for original frames. Examples are shown at the bottom in the About our Frames section.
At Progressive Automotive, we work hard, which is why it is extremely rewarding when we receive appreciation from our peers. This type of recognition allows us to know that we are doing our jobs well, which fuels us to further create innovative products. We received the NSRA Industry Appreciation Award in 1984, which we saw not just as an opportunity to celebrate our business, but to also see if we could push our skills and innovation to the next level. That's exactly what we did. In 1989, we developed the use of the 1984-96 C4 Corvette suspensions in our rolling chassis and installation kits. In 2015, we integrated the 1997-2005 C5 and 2006-13 C6 Corvette suspensions kits. We don't see awards or good press as simply just a pat on the back; we see them as a way to challenge ourselves to top what we have accomplished before with new and innovative designs to keep the classic cars and trucks driving down the road.
When it comes to any business, longevity is always a key indicator for quality and customer satisfaction. So what makes Progressive Automotive special? Quality products and customer service, pure and simple. We've been around longer than most, and we continue to keep our customers – not only in Ohio or the United States, but across the world – coming back for our quality hot rod parts, services and experience. Our success speaks for itself, and we appreciate all of our customers. The craftsmen at Progressive Automotive are extremely skilled and meticulous. Safety and function are our highest priority with form to ensure that your custom hot rod or classic restoration keeps its distinctive looks and appeal. Progressive Automotive will continue to innovate and create the best hot rod frames, chassis and installation kits.
At Progressive Automotive, we look forward to helping customers get the most from their custom hot rods and classic trucks for another 42 years to come.
To learn more or to get help finding the right hot rod frames, chassis or suspensions for your project, email or call us today at 740-862-4696.
____________________________________________________________________________