Old frames with riveted or no crossmembers can flex due to elongation of the rivet holes. This issue becomes more pronounced when modern engines with higher horsepower are installed, leading to increased frame flex under torque. Progressive Automotive offers specially designed X-members with transmission cross members that help eliminate the flex caused by age and increased power.
Our X-members are designed for either automatic and manual transmissions. Each X-member includes a steel, bolt-in transmission mount, allowing for easy removal from the bottom without the need to pull the motor from the vehicle.
Top and bottom side tubes are formed as one piece, as opposed to welded square or rectangular tubes. This design approach eliminates the chance of stress cracks that can occur, ensuring greater strength and durability.
Their X-members are also designed to allow for the passage of 3″ exhaust with a half-inch clearance. It's worth noting that the availability of space for exhaust may be limited when underfloor pedal assemblies are used.
If your vehicle isn't listed in their offerings, contact us for our X-member Tech sheet.
Progressive Automotive takes pride in manufacturing their products at their shop in Baltimore, Ohio, U.S.A. emphasizing their commitment to quality and craftsmanship.
Boxing Plates for C-channel style frame rails can be found here:
Brake and Brake/Clutch Pedal Assemblies with Booster mounts can be found here:
Optional items are listed at the bottom of this page
*Tubular X-member kits, include:
(2) X-member sides, assembled
(1) Steel trans. Mount with mounting hardware
(1) Rear connector
and either
(1) Straight connector &  Drop connector
or
(1)  K- connector
  Connector tube are coped (notched) for fit and marked on the sides for alignment.

Chevrolet/G.M.C.

1931-32 Chevy car/1931-33 truck                                                                                                     
For Automatic Transmissions                          XT-CA-AT      $579
For Manual Transmissions                              XT-CA-MT     $609
1933 Chevy Master/Standard car                               
For Automatic Transmissions                          XT-CB-AT       $579
For Manual Transmissions                              XT-CB-MT      $609
1934 Chevy Master                                                                              
For Automatic Transmissions                          XT-CC-AT       $579
For Manual Transmissions                              XT-CC-MT      $609
1934-35 Chevy Standard                                                                                                       
For Automatic Transmissions                          XT-CD-AT       $579
For Manual Transmissions                              XT-CD-MT      $609
1935 Master/1936 Chevy Standard                                                                                                   
For Automatic Transmissions                          XT-CE-AT       $579
For Manual Transmissions                              XT-CE-MT      $609
1936 Chevy Master                                                                                                  
For Automatic Transmissions                          XT-CF-AT       $579
For Manual Transmissions                              XT-CF-MT      $609
1937-39 Chevy                                                                                           
*For Automatic Transmissions                          XT-CG-AT       $579
*For Manual Transmissions                              XT-CG-MT      $609
      *Recommended (1) 7″ & (1) 14″ Top Hat Frame re-enforcement plates can be found here
1940 Chevy                                                                                           
*For Automatic Transmissions                          XT-CH-AT       $659
*For Manual Transmissions                              XT-CH-MT      $689
     *Recomended (1) 7″ & (1) 14″ Top Hat Frame re-enforcement plates can be found here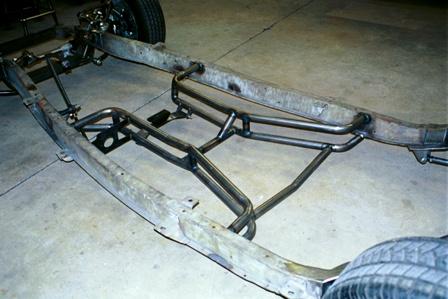 1941-48 Chevy                                                                                           
*For Automatic Transmissions                          XT-CI-AT       $659
*For Manual Transmissions                              XT-CI-MT      $689
     *Recommender (1) 7″ & (1) 14″ Top Hat Frame re-enforcement plates can be found here
1949-54 Chevy                                                                                           
*For Automatic Transmissions                          XT-CK-AT       $579
*For Manual Transmissions                              XT-CK-MT      $609
     *Recommended (1) 7″ & (1) 14″ Top Hat Frame re-enforcement plates can be found here
1955-57 Chevy                                                                                           
For Automatic or Manual Transmissions                          XT-CJ             $579
1934-36 Chevy truck                                                                                                
For Automatic Transmissions, Short Bed         XT-CTB-AT-SB       $579
For Manual Transmissions, Short Bed             XT-CTB-MT-SB      $609
For Automatic Transmissions, Long Bed          XT-CTB-AT-LB        $609
For Manual Transmissions, Long Bed              XT-CTB-MT-LB       $659
1937-40 Chevy truck                                                                                                
For Automatic Transmissions, Short Bed         XT-CTC-AT-SB       $579
For Manual Transmissions, Short Bed             XT-CTC-MT-SB      $609
For Automatic Transmissions, Long Bed          XT-CTC-AT-LB        $609
For Manual Transmissions, Long Bed              XT-CTC-MT-LB       $659
1941-46 Chevy truck                                                                                                
For Automatic Transmissions, Short Bed         XT-CTD-AT-SB       $579
For Manual Transmissions, Short Bed             XT-CTD-MT-SB      $609
For Automatic Transmissions, Long Bed          XT-CTD-AT-LB       $609
For Manual Transmissions, Long Bed              XT-CTD-MT-LB       $659
1947-55 (1st Ser.) Chevy truck                                                                                             
For Automatic Transmissions, Short Bed         XT-CTE-AT-SB       $579
For Manual Transmissions, Short Bed             XT-CTE-MT-SB      $609
For Automatic Transmissions, Long Bed          XT-CTE-AT-LB        $609
For Manual Transmissions, Long Bed              XT-CTE-MT-LB       $659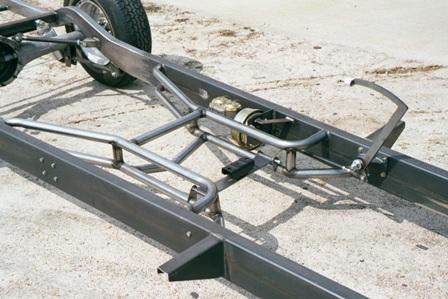 1955 (2nd Ser.)-59 Chevy truck                                                                                           
For Automatic Transmissions, Short Bed         XT-CTF-AT-SB       $579
For Manual Transmissions, Short Bed             XT-CTF-MT-SB      $609
For Automatic Transmissions, Long Bed          XT-CTF-AT-LB        $609
For Manual Transmissions, Long Bed              XT-CTF-MT-LB       $659
Ford
1932 Ford car/1932-33 (1st Ser.) truck   
For Automatic Transmissions                          XT-FB-AT       $579
For Manual Transmissions                              XT-FB-MT      $609
1933-34 Ford car/1933 (2nd Ser.)-34 truck
For Automatic Transmissions                          XT-FC-AT       $579
For Manual Transmissions                              XT-FC-MT      $609
1935-40 Ford car/1935-41 truck                                                                                          
For Automatic Transmissions                          XT-FD-AT       $659
For Manual Transmissions                              XT-FD-MT      $689
1941-48 Ford car                                                                                                       
For Automatic Transmissions                          XT-FE-AT       $659
For Manual Transmissions                              XT-FE-MT      $689
1942-47 Ford truck                                                                                                   
For Automatic Transmissions, Short Bed         XT-FTE-AT-SB       $579
For Manual Transmissions, Short Bed             XT-FTE-MT-SB      $609
For Automatic Transmissions, Long Bed          XT-FTE-AT-LB        $609
For Manual Transmissions, Long Bed              XT-FTE-MT-LB       $659
1948-52 Ford truck                                                                                                   
For Automatic Transmissions, Short Bed         XT-FTF-AT-SB       $579
For Manual Transmissions, Short Bed             XT-FTF-MT-SB      $609
For Automatic Transmissions, Long Bed          XT-FTF-AT-LB        $609
For Manual Transmissions, Long Bed              XT-FTF-MT-LB       $659
1953-56 Ford truck                                                                                                   
For Automatic Transmissions, Short Bed         XT-FTG-AT-SB       $579
For Manual Transmissions, Short Bed             XT-FTG-MT-SB      $609
For Automatic Transmissions, Long Bed          XT-FTG-AT-LB       $609
For Manual Transmissions, Long Bed              XT-FTG-MT-LB       $659
1957-63 Ford truck                                                                                                   
For Short Bed, specify transmission         XT-FTH-SB       $579
1964-72 Ford truck                                                                                                   
For Short Bed, specify transmission         XT-FTI-SB       $959
Plymouth/Dodge
1933 Plymouth car/1933-35 (1st Ser.) Dodge truck
For Automatic Transmissions                          XT-PA-AT       $579
For Manual Transmissions                              XT-PA-MT      $609
1934 Plymouth car                                                                                                   
For Automatic Transmissions                          XT-PB-AT       $579
For Manual Transmissions                              XT-PB-MT      $609
1935-36 Plymouth car                                                                                             
For Automatic Transmissions                          XT-PC-AT       $579
For Manual Transmissions                              XT-PC-MT      $609
Oldsmobile
1956 Oldsmobile, for Automatic or Manual transmission       XT-O-56     $639

Optional Items
Vulcanized G.M transmission mount with attachment hardware            TM-RM-C      $6
Vulcanized Ford transmission mount with attachment hardware           TM-RM-F      $6
Drive Shaft Loop kits, recommended for High horsepower vehicle       XT-DLK        $95