Progressive Automotive offers frame mounted pedal assemblies designed specifically for hot rods, street rods, and trucks. For vehicles without our X-member, refer to the universal style. Those that feature their tubular X crossmembers are listed by year, make and model. Progressive Automotive takes pride in manufacturing their products at their shop in Baltimore, Ohio, U.S.A. emphasizing their commitment to quality and craftsmanship.
The pedal assemblies come with and adjustable connecting rod. This connecting rod facilitate the linkage between the pedal and the brake booster, hydra boost, and master cylinder, ensuring smooth and reliable operation.
The Brake/Clutch pedal assemblies are designed for Wilwood clutch master cylinders.
*Note that brake boosters, Hydra boost, brake master cylinders, and Wilwood hydraulic master cylinders are sold separately and can be found here.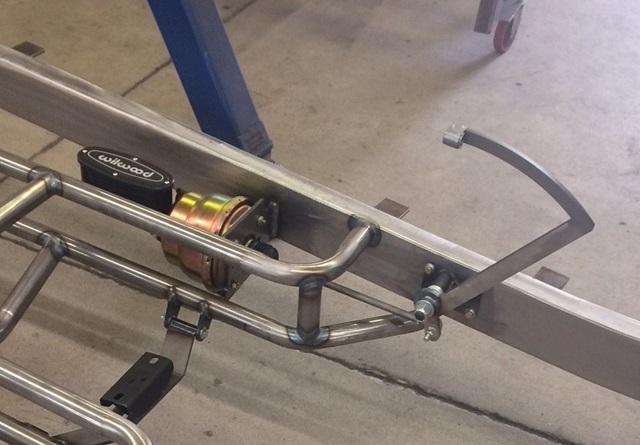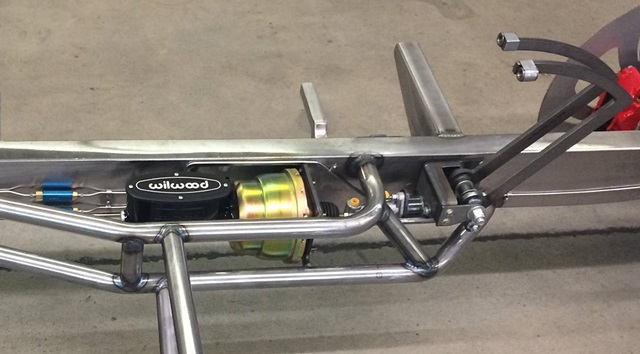 Universal:
For frames without our Tubular X-members, booster mount weld to boxed frame rail only. Specify parallel or tapered frame.

Brake Pedal Assembly               BPT-U           $299
 Brake/Clutch Pedal Assembly     BPT-C-U       $439
*New Outside Frame mounted Clutch Pedal Assembly for paralell rails     BPT-C-OM       $279
Chevrolet:
 1928-32 car & 31-33 truck
 Brake Pedal Assembly               BPT-CA           $259
 Brake/Clutch Pedal Assembly     BPT-C-CA       $399
1933 Master & Standard car
 Brake Pedal Assembly               BPT-CB           $259
 Brake/Clutch Pedal Assembly     BPT-C-CB       $399
 1934-35 Standard car
 Brake Pedal Assembly               BPT-CD           $259
 Brake/Clutch Pedal Assembly     BPT-C-CD       $399
1934 Master car
 Brake Pedal Assembly               BPT-CC           $259
 Brake/Clutch Pedal Assembly     BPT-C-CC       $399
 1935 Master/1936 Standard car
 Brake Pedal Assembly               BPT-CE           $259
 Brake/Clutch Pedal Assembly     BPT-C-CE       $399
1936 Master car
 Brake Pedal Assembly               BPT-CF           $259
 Brake/Clutch Pedal Assembly     BPT-C-CF       $399
1937-39 car
 Brake Pedal Assembly               BPT-CG           $259
 Brake/Clutch Pedal Assembly     BPT-C-CG       $399
1940 car
 Brake Pedal Assembly               BPT-CH           $259
 Brake/Clutch Pedal Assembly     BPT-C-CH       $399
1941-48 car
 Brake Pedal Assembly               BPT-CI           $259
 Brake/Clutch Pedal Assembly     BPT-C-CI       $399
1934-36 truck & Panel Truck
*Includes Booster relief for frame rails
 Brake Pedal Assembly               BPT-CTB           $289
 Brake/Clutch Pedal Assembly     BPT-C-CTB       $429
 1937-40 truck, Suburban & Panel Truck
 *Includes Booster relief for frame rails 
Brake Pedal Assembly               BPT-CTC           $289
 Brake/Clutch Pedal Assembly     BPT-C-CTC       $429
 1941-46 truck, 1941-47 Suburban & Panel Truck
 *Includes Booster relief for frame rails
 Brake Pedal Assembly               BPT-CTD           $289
 Brake/Clutch Pedal Assembly     BPT-C-CTD       $429
1947-55 (1st Series) truck, Suburban & Panel Truck
 *Includes Booster relief for frame rails
 Brake Pedal Assembly               BPT-CTE           $289
 Brake/Clutch Pedal Assembly     BPT-C-CTE       $429
*1955 (2nd Series)-59 truck, Suburban & Panel Truck
 *Includes Booster relief for frame rails
 Brake Pedal Assembly               BPT-C-CTF         $289
 Brake/Clutch Pedal Assembly     BPT-C-CTF         $429
*New Outside Frame mounted Clutch Pedal Assembly     BPT-CTF-OM       $279
Fords:
 1932 car & 1932-33 (1st Series) truck
 Brake Pedal Assembly               BPT-FB           $259
 Brake/Clutch Pedal Assembly     BPT-C-FB       $399
1933-34 car & 1933 (2nd Series)-34 truck
 Brake Pedal Assembly               BPT-FC           $259
 Brake/Clutch Pedal Assembly     BPT-C-FC       $399
1935-40 car & 1935-41 truck
 Brake Pedal Assembly               BPT-FD           $259
 Brake/Clutch Pedal Assembly     BPT-C-FD       $399
1941-48 Ford
 Brake Pedal Assembly               BPT-FE           $259
 Brake/Clutch Pedal Assembly     BPT-C-FE       $399
*1942-47 Ford truck & Panel Truck
 *Includes Booster relief for frame rails
 Brake Pedal Assembly               BPT-FTE           $289
 Brake/Clutch Pedal Assembly     BPT-C-FTE       $429
*New Outside Frame mounted Clutch Pedal Assembly     BPT-FTE-OM       $279
*1948-52 Ford truck & Panel Truck
 *Includes Booster relief for frame rails
 Brake Pedal Assembly               BPT-FTF           $289
 Brake/Clutch Pedal Assembly     BPT-C-FTF       $429
*New Outside Frame mounted Clutch Pedal Assembly     BPT-FTF-OM       $279
*1953-56 Ford truck & Panel Truck
 *Includes Booster relief for frame rails
 Brake Pedal Assembly               BPT-FTG           $289
 Brake/Clutch Pedal Assembly     BPT-C-FTG       $429
*New Outside Frame mounted Clutch Pedal Assembly     BPT-FTG-OM       $279
Plymouth & Dodge:
 1933 Plymouth car  / 1933-35 (1st Ser.) Dodge truck

 Brake Pedal Assembly               BPT-PA           $259
 Brake/Clutch Pedal Assembly     BPT-C-PA       $399
1934 Plymouth car

 Brake Pedal Assembly               BPT-PB           $259
 Brake/Clutch Pedal Assembly     BPT-C-PB       $399
Willys:
 1937-41 Willys car & truck
 Brake Pedal Assembly               BPT-WA           $259
 Brake/Clutch Pedal Assembly     BPT-C-WA       $399